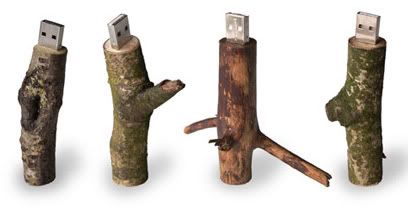 The era of floppy disks is finally booted off, perhaps long before this post is created. Thanks to
USB hardware
, we don't have to bear with the constant inefficiency and the irksome storage capacity these disks possess. Optical disks such as CDs, DVDs would have been much convenient too if we don't have to use things called writers, burners, whatever. Well, with the presence of USB devices, all of us can carry more data in a considerably small package.
Yes, I am talking about our beloved memory sticks, flash drives, thumb drives, USB sticks, and whatever names we call this cute little tools. They are truly life-savers. Now, aside from getting the latest high-capacity USB flash drives, the trend also involves getting the coolest and hippest, if not the weirdest, memory sticks available.
The picture on your right, which was taken from
OOOMS
before performing some lousy cropping actions in Photoshop, depicts one of the innovations that propped up in the USB realm. Isn't it nice to have someone wonder why a piece of wood is attached in your system chassis? Your mother would probably freak out seeing this seemingly foreign object getting its way down to your computer system. An incident such as that is just precious! Isn't it?
I guess I'll have to begin digging in and find out where else can I purchase one of these lovely things. Ciao...